Blog
The Hip ­- A review of hip mechanics, functional movement patterns and treatment
Health and Fitness Consultants Meet Up
With Louise Taylor and Tyson Plesuk
An evening of education, massage and pizza!
On Wednesday February 3rd we brought a group of Calgary health and fitness professionals together to discuss the hip and its relationship to injury and athletic function. Mount Royal University students attended to give free table massage and CocoBrooks supplied us with a delicious assortment of pizza. This session had both a lecture, practical and discussion components. Thank you to all who attended this event!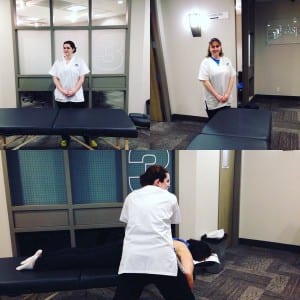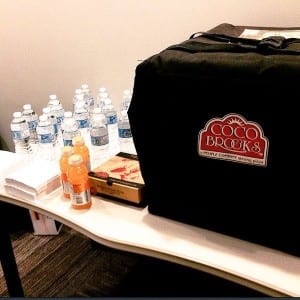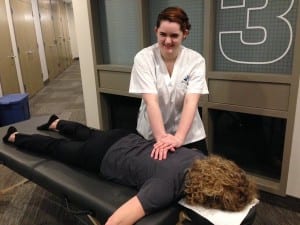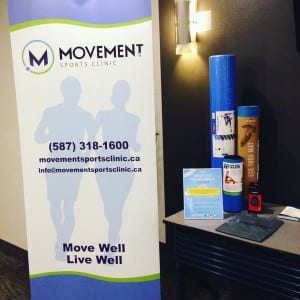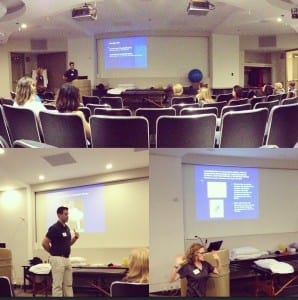 If you are interested in attending one of our events in the future, please email us at info@movementsportsclinic.ca and we will add you to our contact list.
Please find below a reference list on the presentation.
The Functional Hip 
Movement Sports Clinic Meet Up
February 3, 2016
Reference List
Lenhart et al. Hip Muscle Loads During Running at Various Step Rates
Journal of Orthopaedic & Sports Physical Therapy. October 2014:Vol 44,No 10
Kang et al. Modifying the hip abduction angle during bridging exercise can facilitate gluteus maximus activity. Manual Therapy Jan 2016
Mills et al. Effect of restricted hip flexor muscle length on hip extensor muscle activity and lower extremity biomechanics in college aged female soccer players. The International Journal of Sports Physical Therapy. Dec 2015: Vol 10, Number 7
Nagano et al. Mechanics of the muscles crossing the hip joint during sprint running. Journal of Sports Sciences, 2014:Vol. 32, No. 18, 1722–1728
Macadam et al. An examination of the gluteal muscle activity associated with dynamic hip abduction and hip external rotation exercise: A Systematic Review. International Journal of Physical Therapy. 2015
Laible et a. Iliopsoas Syndrome in Dancers. Orthopaedic Journal of Sports Medicine January 2013
Munegato et al. Sports hernia and femoroacetabular impingement in
athletes: A systematic review. World Journal of Clinical Cases September. 2013
Hides et al. Activation of the hip adductor muscles varies during a simulated
weight-bearing task. Physical Therapy in Sport. January 2016
Yoo et al. An Appraisal of the Short Lateral Rotators of the Hip Joint. Clinical Anatomy. Vol 28; 2015
Dieterich et al. Differentiation of gluteus medius and minimus activity in weight
bearing and non-weight bearing exercises by M-mode ultrasound
imaging. Manual Therapy Vol 20. 2015
Bolgia et al. Relative electromyographic activity in trunk, hip, and knee muscles during unilateral weight bearing exercises: Implications for rehabilitation. Physiotherapy Theory and Practice. January 2016
Loder et al. The epidemiology and demographics of hip dysplasia. International Scholarly Research Network:
Orthopaedics. 2011
Gray Cook. Movement: Functional Movement Systems.  On Target Publications. 2010
Stuart McGill. Ultimate Back Fitness and Performance.  Backfitpro Inc. Fourth Edition 2009
Shirley Sahrmann. Diagnosis and Treatment of Movement Impairment Syndromes Mosby. 2002
P. Page, C. Frank R Lardner,  Assessment and Treatment of Muscle Imbalance: The Janda Approach. Human Kinetics. 2010
Thomas Meyers. Anatomy Trains, Third Edition. Churchill Livingstone. 2014
Diane Lee. The Pelvic Girdle: An approach to the examination of the lumbopelvic-hip region Third Edition. Churchill Livingstone. 2004
2013 Selective Functional Movement Assessment (SFMA) Seminar Manual info@sfma.com
David Weinstock.  Neurokinetic Therapy: An innovative approach to manual muscle testing North Atlantic Books 2010
Leave a Reply
You must be logged in to post a comment.