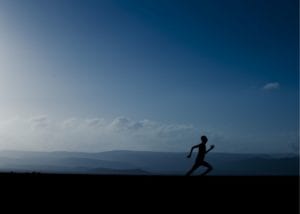 Every runner has a unique running style but there are a few basics that can facilitate more optimum form. Here are a few things to consider when working on distance running technique:
Posture: The body should be upright with forward lean from the ankle. Rib cage should be stacked up over the pelvis. Good posture helps breathing efficiency and body alignment.
Foot Strike: When the foot contacts the ground, it should sound soft and land near the center of mass. Landing with a loud impact or with foot too far in front increases load and shearing forces in the body. If the foot crosses midline or is too wide, that can also create unnecessary stress and strain in the body.
Cadence: The number of foot strikes per minute should be in the range of 165-180 steps per minute. Some people run well even with lower or higher step turnover Manipulating cadence can change force loading and is commonly used in running injury rehabilitation to help manage joints and soft tissue stress.
Symmetry: Arms and legs are pendulums that should swing equally and in opposition. Elbows should come back like you are elbowing the person behind you, not wing sideways. Hands should move from level of the heart to level of the hip during excursion. Legs should also swing without knees rubbing or heels catching the opposite leg.
A running video analysis can help us assess gait and is a great tool to help figure out running injury issues. Working with a health practitioner who understands your sport is a great way to get ahead.