Our Team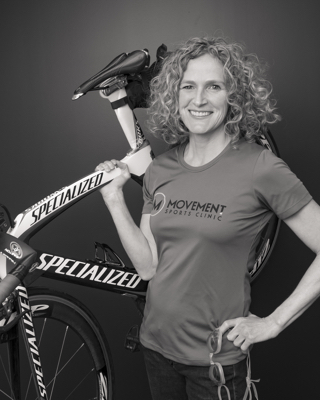 Louise Taylor, Physiotherapist
BA, BMR PT, MClSc PT, FCAMPT, CAFCI, CGIMS
Louise practices Physiotherapy in order to help all individuals move well without pain and maximize their physical potential at any age. She develops a therapeutic alliance with the client through communication, empathy, trust and respect. Individuals are empowered to reach their rehabilitative and performance goals through education, exercise prescription, Manual Therapy and the use of appropriate adjunct treatments such as Acupuncture.
Louise evaluates the latest research and integrates the best practices in order to help her clients reach their goals. Her greatest skill is analyzing a problem and implementing an effective and realistic treatment plan. She remains aware of emerging technologies and incorporates new techniques as appropriate. Manual Therapy skills are used to facilitate joint and myofascial mobility and decrease pain sensitivity. A home program of Therapeutic Exercise is always prescribed to reinforce movement changes, establish optimum movement patterns and to stabilize and strengthen the musculoskeletal system.  Acupuncture and dry needling techniques are also utilized to promote recovery and function.
In 2011, Louise achieved the academic Masters designation in Manipulative Therapy (MClSc PT) from the University of Western Ontario. Her research study continues at The University of Calgary in the area of understanding lumbo-pelvic-hip pain the hunter/jumper equestrian rider population.
As of May 1, 2012 qualified physiotherapists in Alberta are authorized to order Diagnostic Imaging such as x-ray, ultrasound and MRI diagnostic services.  Louise was one of the first to obtain these credentials and is pleased to be able to provide this service to her patients. Based upon imaging results, clients will be referred to sport physicians and other medical specialists as required to complete their injury or disease management.
As part of educating her clients and the community, Louise has written and Published Articles related to sport, injury and prevention. She has also given Presentations to corporate Calgary and has also presented to her peers at professional conferences.
Louise is committed to health and wellness herself. She loves running and triathlon and continues challenging herself at races of all distances. Skiing, including Nordic, Alpine and Alpine Touring, is her winter passion. She has been greatly informed by her sports participation and the coaching professionals she has worked with over the years. Areas of special interest are injuries related to running and triathlon as well as performance of the Masters athlete in any sport. Louise offers a Running Analysis service and she also sees a number of patients with repetitive strain injuries related to computer and office work.
Above all, Louise wants to help people of any age move well, be painfree, active and healthy. She values health, fitness, wellness, relationships and the environment.
To learn more about Louise, please visit her website www.louisetaylor.ca