Our Team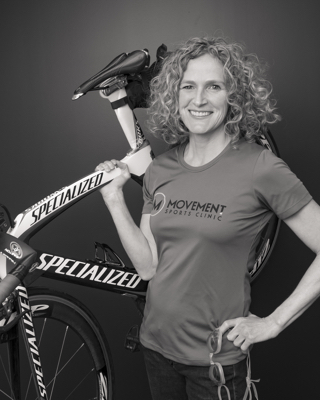 Louise Taylor, Physiotherapist
BA, BMR PT, MClSc PT, FCAMPT, Cert GunnIMS
Louise is passionate about being a physiotherapist, committed to ongoing professional learning and enjoys helping people achieve their fitness goals. Being able to move well without pain is such an important factor for enjoying a healthy and active life. Louise is a Founder and Co-owner of Movement Sports Clinic and is proud of the highly experienced and collaborative team she works with.
With over 30 years of experience, Louise is very capable of helping sort out your movement difficulties by providing recommendations, support, appropriate medical referrals, and evidence-based treatment. Her Physiotherapy Bachelor's degree is from the University of Manitoba and she also has a Clinical Master's degree in Physiotherapy from the University of Western Ontario. She is also a Fellow of the Canadian Academy of Manipulative Therapists and has Acupuncture and Intramuscular Stimulation (IMS) needling certification. Louise also has accreditation from the University of Alberta in ordering Diagnostic Imaging (ultrasound, MRI and x-ray). With this certification she can help counsel patients in determining when imaging may be appropriate for informing best treatment options.
Louise has special interests in managing acute injuries, repetitive strain disorders, persistent pain conditions as well as helping anyone at any age meet their fitness and life movement objectives. She will use video analysis to help with running related issues and is able to provide appropriate rehabilitative exercises for home and self-management. Treatment may also include manual therapy, IMS needling and use of modalities like Shock Wave Therapy. Education about injury mechanisms and prognosis, understanding pain, training modifications, and making healthy lifestyle choices are also part of a typical physiotherapy session.
Louise loves running and triathlon. She also enjoys hiking, yoga and the occasional golf match. As a mature athlete herself, she is very capable of helping the Masters athlete navigate injures and achieve their sporting goals. She continues to train for triathlon, qualifying and competing in the Ironman World Championships in Hawaii October 2022.