Our Team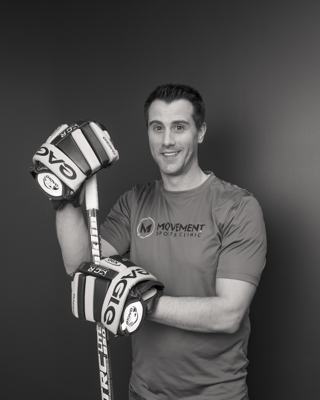 Tyson Plesuk, Physiotherapist
MScPT, BPHE, BSc, CAFCI, CGIMS, Cert. Sport Physio
Tyson Plesuk is a sports and manual physiotherapist who works with Olympic, NHL, and other professional and amateur athletes, as well as people of all ages and backgrounds from the general public.
His choice of a career in physiotherapy arose from a keen interest in his own recovery from injuries sustained while participating in hockey, lacrosse and volleyball.
Tyson is committed to further develop his knowledge and skills within the field of physiotherapy by completing several courses. He has completed courses in acupuncture and dry needling (IMS), manual therapy, fascial release, and injury prevention. He has also taken courses in assessing functional movement, including being SFMA (Selective Functional Movement Assessment) certified.
While attending Queen's University to acquire a Bachelor's degree in Physical and Health Education and a Bachelor's degree in Science (Biology), Tyson was captain of the hockey team and an Academic All-Canadian. After completing his undergraduate degrees, he received his Master's of Science in Physical Therapy from the University of Alberta. He is certified in acupuncture with the Acupuncture Foundation of Canada, a Gunn Intramuscular Stimulation (IMS) practitioner and certified in Spinal Manipulation. Tyson also has a Certificate in Sports Physiotherapy from Sport Physiotherapy Canada.
Tyson served as the head physiotherapist at the 2009 Brier (Canadian men's curling championship) and the Roar of the Rings Olympic Curling Trials. In 2010, Tyson became a physiotherapist consultant to the Canadian Sport Institute Calgary.
Tyson has worked as the Medical Lead for both the Canadian Bobsleigh and Skeleton teams and has attended a number of World Cup and World Championships as a physiotherapist. 
He has been part of the Canadian medical team for the 2014 Olympic Winter Games in Sochi, Russia and the 2018 Olympic Winter Games in PyeongChang, South Korea.
Through advanced training, Tyson is authorized to order diagnostic imaging, and as a result has the ability to directly refer patients for x-ray, ultrasound and MRI diagnostic services.
In 2021, Tyson was awarded the Canadian Physiotherapy Association Centenary Medal of Distinction to mark the association's 100th anniversary to recognize 100+ individuals who impacted physiotherapy from 1920 to 2020.
Tyson enjoys spending time with his family, and in his spare time, he enjoys weight training, running, and playing hockey.