Our Team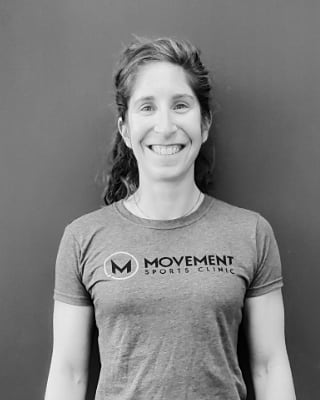 Dr. Elana Taub
B ScH, MSc, MD DDFP (SEM) Specialist in Family and Sport Medicine
Elana was born and raised in Calgary. She graduated from UBC's Island Medical Program in 2014 and then went on complete her Family Medicine residency and an enhanced skills program in Sport Medicine at the University of Calgary. Before this, she completed a Master of Science in exercise physiology, also at the University of Calgary. She has a passion for helping patients achieve a healthy, active lifestyle and has experience working with people of all ages. She has a patient-centred, multidisciplinary approach to sport medicine. Whether you just want to be able to do household chores without pain, are a weekend-warrior who played one-too-many games of slow pitch, are an age-group triathlete or an elite athlete, she is prepared to help you reach your goals.  Outside of the clinic, Elana has provided medical coverage for sporting events such as the Victoria Marathon, multiple International Skating Union long and short track speed skating competitions as well as University of Calgary and Mount Royal University hockey and football teams, to name a few. 
Elana's interest in Sport Medicine stems from her own athletic experiences as a competitive swimmer and then as an elite rower, on both the national and international stages. Now that she has retired from rowing, her next goal is to complete a marathon, and ultimately an Ironman triathlon. She loves exploring the great outdoors with her 2.5 year old Golden Retriever named Cooper – cycling, running, hiking, snowshoeing, cross country and backcountry skiing. If she wasn't a Sport Medicine physician, Elana would either be a professional photographer, a personal chef or a travel blogger. 
Elana's skill set complements the work of our physiotherapists and massage therapists, including in-office joint and trigger point injections. The majority of her services are covered by Alberta Health Care, but she does require a referral from your family doctor, physiotherapist, chiropractor or other health care professional with a PRACID.